---
Five Ways to Boost Employee Engagement in a Virtual Workplace
Working remotely has its challenges, to be sure, but it doesn't mean companies have to dial back on employee engagement. With no quick end to the coronavirus pandemic in sight, you'll want to find ways to adapt your employee engagement programs to a virtual workforce.

Even as state economies begin to reopen, workplaces may look significantly different for some time. With companies implementing social distancing and other safety measures to protect workers from COVID-19, remote work may be part of the mix for a while.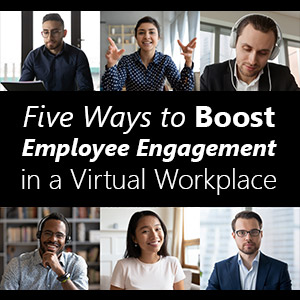 In light of our new normal, here are five ways your company can maintain and build employee engagement virtually:

Conduct Virtual Employee Check-ins
Perhaps your company's departments had daily or weekly check-ins before the pandemic. When employees were in the office, these may have been quick, standing meetings. Adapt these meetings to remote work situations with a virtual app such as Microsoft Teams or Zoom. Be sure to work in some time for an occasional one-on-one call, email or chat. Employees may be feeling more isolated and stressed than normal. They'll appreciate hearing from you.

Provide Employee Stipends
If your company doesn't provide equipment to facilitate remote work, consider providing a monthly stipend to help defray the costs employees may incur by using their personal equipment. Let's face it, working from home can also be frustrating if employees don't have the same set-up virtually (Think double screens, printers, a comfortable work chair as opposed to a dining room chair). Providing employees a one-time stipend to design their virtual workspace does wonders for morale.

Adapt Popular Employee Appreciation Events
At the Federal Home Loan Bank of Dallas (FHLB Dallas), we adapted our popular "What's It Going to Be Wednesday?" (WIGTBW) monthly employee appreciation event to our current remote work situation. We've found that we can still surprise employees on one Wednesday per month. Two months ago, we supported local restaurants during our first virtual WIGTBW by providing reimbursement for a family carryout meal. This boosted morale while supporting local businesses that have been hit hard by stay-at-home measures to slow the coronavirus' spread. Last month, we sent a tin of popcorn to each employee's home and this month, we delivered peaches. What's a favorite employee engagement event at your company? Look for ways to adapt it to a remote work environment.

Hold a Weekly Virtual Town Hall Meeting
Whether you have 25 employees or 500, a one-hour, regularly scheduled virtual town hall meeting led by senior management provides a sense of community. Take this time to be transparent on how your company is performing amid these challenging times. Using technology like Microsoft Teams, Zoom, WebEx or other meeting/collaboration platforms can enable you to share PowerPoint presentations and hold Q&A sessions with employees. At FHLB Dallas, we also build in time on each call for a team leader to report on a project under way at the company. Before ending the live event, employees can ask questions of senior management. We used a recent town hall meeting to put on a virtual talent show and to play a trivia game called Kahoot! via teams of employees. It was so enjoyable to connect with one another on these more personal levels.

Offer Virtual Exercise Options
Exercise improves our work productivity, reduces stress and increases energy and happiness. If you previously offered onsite fitness classes, adapt them to Zoom or another platform with the same class schedule, or just encourage your staff to step away from their laptops occasionally to take a walk.
Brainstorm Your Own Ideas
Finding ways to engage your employees can require thought and creativity. Don't be afraid to try something new. While virtual employee engagement won't be the same as being face-to-face, it can still be meaningful, and your employees will appreciate your effort.

Bre Chapman is Executive Vice President, Chief Administrative Officer and OMWI Director for FHLB Dallas.