---
Employee Training and Development: An Investment, Not an Expense
Investing in employees' growth and development isn't just important to an organization, it is vital. In fact, creating a "best place to work" culture is equally or more beneficial for the organization than it is for the employees. Overlooking this can be detrimental to an organization's long-term growth.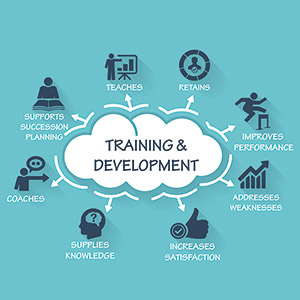 So what are the benefits of employee training and development?
Improves employee performance.
Employee development can be a powerful medium for organizations to keep their employees engaged and provide new and different challenges to them. It gives an employee a chance to gain new skills, take their career to the next level or prepare them for a new role within the organization altogether. It not only adds to their happiness at work, but also improves their performance at work. With the right training and opportunities, their commitment toward the work automatically increases.
Increases employee satisfaction and morale.
When someone feels respected and appreciated, they will become more productive, more loyal and more engaged – and will almost always do more than expected. A workplace filled with positive attitudes leads to service excellence and passionate team success.
Addresses weaknesses.
Most everyone will have some deficiencies in their skills. A professional development program allows the company to strengthen those skills and brings everyone to a higher level. Providing the necessary training creates an overall knowledgeable staff with employees who can cover for each other as needed, work on teams or work independently without substantial help or supervision.
Attracts and retains employees.
According to Ortus, a leading international human resources recruitment firm, the biggest reason for employees leaving an organization is lack of career development (75 percent), closely followed by salary (72 percent). This means that, even if you do not have the budget to increase compensation, you can still encourage staff to stay. By providing a clear training and development plan, staff may be motivated to stay and grow with you. The amount of effort, time and money invested in a hiring process easily surpasses the efforts required for an employee training program. Organizations that focus on their employees' growth also attract the very best talent. Prospective candidates see this as an added bonus.
Supports succession planning.
Providing training and development supports succession planning by expanding the availability of experienced and capable employees to assume senior roles as they become open. By broadening the available talent and resources, a company can mitigate the risk of employees perceived as "irreplaceable" leaving the organization. Areas of training that support succession planning include leadership, communication, team building, change management, coaching skills, conflict resolution, critical thinking and listening.
Employee development does not have to start as an extensive or costly endeavor. Training can be any kind of program applicable to the individual's work and can be delivered by any appropriate method, such as on-the-job learning, mentoring programs, in-house training and individual study.
At the basic level, it's mostly a matter of good managers taking the one-on-one time to understand their employees, recognize their skills and needs and guide them to fill in the gaps. The short-term investment of a training and development program ensures you keep qualified and productive workers who will help your organization succeed. This is an essential business strategy, not another human resource deliverable.
Bre Chapman is Executive Vice President, Chief Administrative Officer and Co-OMWI Director for FHLB Dallas.